Deutsche Website

---
City Guide Stralsund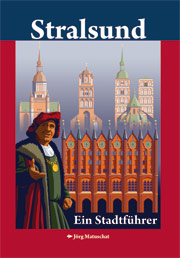 for guests of the Hanseatic city: A richly illustrated ramble through the present and history of the Hanseatic city of Stralsund with a map of the old town.
---
Book "Fotografische Zeitreise - Vorpommern", Volume 4 (A Journey through Time in Photographs)
The fourth and final part on the manor houses and castles in Western Pomerania includes a total of 63 locations. Numerous historical photographs on picture postcards or on photos from private collections are made accessible to the public for the first time.
---

---
In parallel, the team of authors provides photos showing the current state, as well as descriptions of the eventful history of the estates.
In this last volume of the Time Travels, the team of authors focuses on the historical affiliations rather than the current ones when it comes to the border between Mecklenburg and Western Pomerania. Therefore, manor houses are also presented that are now counted as part of the Mecklenburgische Seeplatte district but once belonged to Vorpommern.
---
You can find these places in the book:
The manor house book in brief:
Titel
Table of contents with overview map
151 sheets
Format A5, landscape (21 cm x 14,8 cm)
Paperback
shrink-wrapped
price € 14,95
---
The book is unfortunately only available in German. But you can find many of the houses we present in it on our website with an English translation.