Deutsche Website

---
Castle Ralswiek in the calendar 2021
---
City Guide Stralsund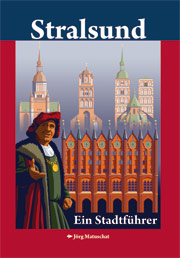 for guests of the Hanseatic city: A richly illustrated ramble through the present and history of the Hanseatic city of Stralsund with a map of the old town.
---
book "Fotografische Zeitreise - Rügen", Volume 1 (A Journey through Time in Photographs)
This illustrated book is particularly interesting for lovers of historical postcards. In cooperation with a philocartist this book was created, in which 51 manor and manor houses of Rügen are presented in their old splendour and in their present state.
---

---
The island of Rügen is known to many visitors from their own experiences, from travel catalogues and illustrated books. But apart from the natural beauties such as the chalk cliffs, the white beaches and beech forests and the famous sights such as the Baltic seaside resorts with their bathing architecture, the lighthouses at Cape Arkona, the Raging Roland and the natural stage in Ralswiek, to name just a few, the island has other interesting sides apart from these tourist attractions. These include manor houses and manor houses, which existed in almost all the towns of Rügen.
These witnesses of the past, often small and inconspicuous, but sometimes also stately and respectable, were for many generations the residence of the families who once cultivated and shaped the land.
Some houses have been revived in their old beauty, others are dawning a better future in their Sleeping Beauty sleep, others have already disappeared from the map.
You can find these places in the book:
The manor house book in brief:
published March 2010
Paperback
Format A5 21 cm x 14,8 cm
144 sheets
Table of contents with overview map
price € 14,95
---
The book is unfortunately only available in German. But you can find many of the houses we present in it on our website with an English translation.