Deutsche Website

---
City Guide Stralsund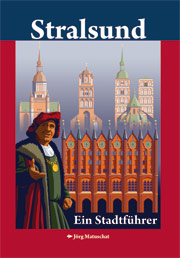 for guests of the Hanseatic city: A richly illustrated ramble through the present and history of the Hanseatic city of Stralsund with a map of the old town.
---
book "Fotografische Zeitreise - Vorpommern", Volume 2 (A Journey through Time in Photographs)
In addition to the first volume, this illustrated book again presents a selection of manor houses and castles in Vorpommern. It is especially interesting for lovers of historical postcards.
---

---
This book was written in collaboration with a philocartist and presents manor houses and castles in Vorpommern in their old splendour and present condition. When the first part of the series "Gutshäuser und Schlösser in Vorpommern" was published last year, the reactions of the readers were not long in coming. On the one hand, there was much thanks and recognition for this publication, which for the first time compared the Vorpommern manor and manor houses in their former and present view and in addition provided some explanations on the history as well as on the current situation. In addition, readers who would like to support a continuation of this project and who provided pictorial material have also registered.
On 158 pages, the new illustrated book documents a total of 36 manor houses and castles between Wiepkenhagen and Vogelsang as well as from the Sundische Wiese to Ferdinandshof. Short texts explain both the history of the respective estates and also provide information about the situation of the buildings in the present. Erhard Grohmann from Grimmen was one of the first owners of the new illustrated book. For decades the enthusiastic collector has been researching the regional history of the town and the former district of Grimmen. In a letter to the authors it says: "The presentation, contents and quality of the paper are well chosen. Beautiful old photos, interesting texts and also photographs from the recent past tell their own story and therefore need little text. Many people write books, but few dare to tackle such a project, which causes only work and costs and brings rarely profit.
You can find these places in the book:
The manor house book in brief:
published July 2012
Paperback
Format A5 21 cm x 14,8 cm
158 sheets
Table of contents with overview map
ISBN 978-3-941444-58-4
price € 14,95
---
The book is unfortunately only available in German. But you can find many of the houses we present in it on our website with an English translation.