Deutsche Website

---
Recommend us!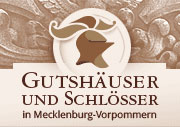 ---
Wrangelsburg manor house in calendar 2021
---
Wiligrad Castle in calendar 2019
---
Manor House Wahlendow
On the way to the island of Usedom one reaches the area around the little town of Lassahn, the `Lassaner Winkel`, between Anklam and Wolgast, there lies Wahlendow. In the first documentary mention of 1344 it is called "Wolendowe" a name which dates back to the late Middle Ages. The estate was in possession of the von Horn family. In 1915 Leo von Caprivi acquired the estate.
---

---

---
Nowadays there is a spacious holiday flat available in the former inspector´s house, which is let by the current owners after renovation of the house.

---
Gutshaus Wahlendow
17390 Wahlendow, Parkweg
Contact: Annette Ohlsen-Onneken
Phone: 0172-8882764
Email: kontaktSPAMFILTER@ostseeferien-gutshaus.de
Url: www.ostseeferien-gutshaus.de
---
Keywords: