Deutsche Website

---
City Guide Stralsund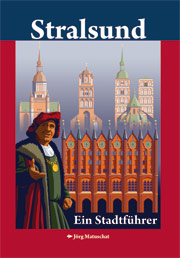 for guests of the Hanseatic city: A richly illustrated ramble through the present and history of the Hanseatic city of Stralsund with a map of the old town.
---
book "Fotografische Zeitreise - Mecklenburg", Volume 2 (A Journey through Time in Photographs)
After the first illustrated book entitled Guts- und Herrenhäuser in Mecklenburg was published in 2013, initial reactions were not long in coming.
---

---
---
This volume is not only in great demand - what makes us even more happy is that some readers contacted us who thanked us for our work and also provided us with pictures and information about individual goods.
One of them is Burkhardt Preiss from Bremen. From 1922 until the bitter end of 1945 his grandfather Richard Redant administered the Rittermannshagen farm, which is located between Stavenhagen and Waren-Müritz. "As an estate inspector he administered the estate, had an accountant, a coachman, a shepherd, a milker and every morning 8 - 10 estate workers worked as day labourers from the village to work on the farm, in the stables and on the fields. Polish reapers helped on the fields during harvest time. The goods of the feudal nobility were self-sufficient, the day-labourers received a deputy who allowed them to feed their families, the children received a one-class school education, and the pastor was also provided. The proceeds of the surplus from agriculture and cattle breeding went to the county. As early as 1819, serfdom was abolished by resolution of the Landtag, but for the majority of landless farmers there was still a strong dependence on the landowner. Their own small estates were not sufficient for their livelihood, they had to earn a daily wage as a sideline," writes Mr. Preiss. A situation like it was typical for many places in Mecklenburg at that time.
---
You can find these places in the book
The manor house book in brief:
published April 2014
Paperback
Format A5 21 cm x 14,8 cm
157 Seiten
Table of contents with overview map
978-3-941444-91-1
price € 14,95
---
The book is unfortunately only available in German. But you can find many of the houses we present in it on our website with an English translation.