Deutsche Website

---
A manor house for a whole group!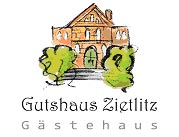 The guest house Zietlitz offers the suitable ambience for family celebrations, small seminars, groups of friends of historical manor houses; nature lovers, yoga groups and much more.
---
Manor House Jamitzow
Jamitzow was first mentioned in a document in 1315 in which Henning and Arnold von Köller were named as owners. The estate seems to have remained in their possession up to the 16th century.
---

---

---
During the 16th century the property passed over to the von Nienkerken family (Neuenkirchen). With the marriage of Barbara von Nienkerken to Joachim von Owstin from the Quilow line, the estate came into possession of the von Owstin family. Around 1631 Jochen Kuno von Owstin had a manor house built. Around 1700 the estate changed owners; von Owstin was followed by the von Normann family, in 1829 the von Krauthoff family and later the von Romberg family.
In 1911 the estate came into possession of a commoner. Consul Franz Frischen had the old dilapidated manor demolished to its foundations and built an impressive manor house with 50 rooms for 350,000 Reichsmark. The architect was Heinz Lassen. The estate complex was also extensively renovated and extended. A guesthouse, which is extant even nowadays, a luxurious horse stable as well as residential and estate buildings for the administration and employees of the estate were built. Shortly after completion of the work Franz Frischen died in 1917 without issue.
The castle burned down in 1929. At this time it was owned by Emil Lamprecht and there is a rumour that he started the fire himself to get insurance payments for the highly indebted property. In 1947 the horse stable fell victim to the flames.
In 1939 the Countess of Lüttichau is named as the owner of the 818-hectare feudal estate.
Many estate buildings from the time of Franz Frischen are extant, including the guest house and the estate manager´s house with the gateway. A large stable was extensively renovated after the political change in Germany.

---
Keywords: