Deutsche Website

---
City Guide Stralsund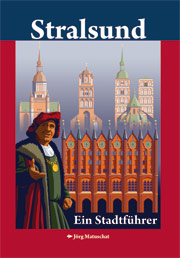 for guests of the Hanseatic city: A richly illustrated ramble through the present and history of the Hanseatic city of Stralsund with a map of the old town.
---
book "Fotografische Zeitreise - Vorpommern", Volume 1 (A Journey through Time in Photographs)
This illustrated book presents selected manor houses and castles in Vorpommern. It is especially interesting for lovers of historical postcards.
---

---
---
This book was written in collaboration with a philocartist and presents manor houses and castles in Vorpommern in their old splendour and present state.
Wide beaches, hidden bays and reed belts line the Strelasund, the Bodden waters, the Peene river and the Stettiner Haff. Behind them, harbour towns and fishing villages spread maritime flair.
Inland, rivers such as Peene, Uecker, Recknitz, Trebel and Tollense wind their way through a landscape as in the past. And numerous avenues lead to the old manor houses and castles, to restored village churches or overgrown ruins in Sleeping Beauty sleep. They are the picturesque companions between the traditional Hanseatic towns and dreamy villages.
The manor houses in Vorpommern are often small and inconspicuous, but sometimes also stately and respectable. For many generations they were the homes of the families who once cultivated and formed this land. Some houses have been brought back to life in their old beauty, others are dawning a better future in their Sleeping Beauty sleep, others have already disappeared from the map.
You can find these places in the book:
The manor house book in brief:
published March 2011
Paperback
Format A5 21 cm x 14,8 cm
156 sheets
Table of contents with overview map
ISBN 978-3-9414444-41-6
price € 14,95
---
The book is unfortunately only available in German. But you can find many of the houses we present in it on our website with an English translation.