Deutsche Website

---
Large manor house calendar 2022 (A3)
---
City Guide Stralsund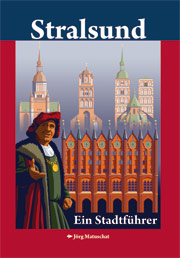 for guests of the Hanseatic city: A richly illustrated ramble through the present and history of the Hanseatic city of Stralsund with a map of the old town.
---
Small manor house calendar 2022 (A4)
Our compact version for the year 2022: This time we are going on a very varied journey to the treasures of our architectural landscape. Once again we present 12 houses from a period of over 600 years.
---

---
From 1250 to 1920, our journey goes through time and landscape. Alongside ten very different estates and manor houses, a romantic fortress and the castle of the ducal line of Mecklenburg-Güstrow are once again included. The calendars will be sent out from mid-July.
---
---
We will present these houses & places in 2022:
---
The manor house calendar in dates:
- Cover page
- 12 calendar sheets
- Sheet 13 with historical photos
- General map back side
- Format A4, high (210 x 297 mm)
- Ring binding
- shrink-wrapped
price 14,00 €
Packing and shipping 3,00 € within Germany (regardless of the quantity of calendars ordered)
Shipping to other countries may incur additional costs.