Deutsche Website

---
City Guide Stralsund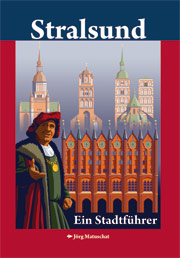 for guests of the Hanseatic city: A richly illustrated ramble through the present and history of the Hanseatic city of Stralsund with a map of the old town.
---
Large Manorhouse & Castle Calendar 2018 (A3 landscape 420 x 297 mm)
This Calendar 2018 is a interesting mixture of styles of the rural architecture of Mecklenburg-Vorpommern. Travel through 350 years of history (!) – from the largest regional »Renaissance Wasser Veste« Spantekow to the high-tech Herrenhaus Büttelkow (with central vacuum cleaner, concrete ceilings and lightwell).
---

---
Order the calender 2018 via web form
---
And the history of its builders and later owners is also connected with the history of the buildings. We can only touch on it all - but perhaps this calendar encourages you to deal deeper with one or the other house. On an additional page, we have compiled a few historical photos.
These manor houses, castles and fortresses will be included in 201
Groß Potrems (near Rostock)
Teutendorf (near Sanitz)
Büttelkow (near Rerik)
Pütnitz (Ribnitz-Damgarten)
Klein Trebbow (Schwerin)
Vogelsang (near Güstrow)
Alt Vorwerk (in the countryside)
Alt Guthendorf (between Ribnitz and Marlow)
Burg Spantekow (near Anklam)
Schmarsow (near Demmin)
Below (near Röbel)
Schorssow (near Malchin)
The manorhouse calendar in brief
- Titel
- 12 pages, 12 houses
- Page 13 historic photographs
- Map and tiny discoveries (back page)
- A3 landscape (420 x 297 mm)
Price 14,00 €
Packing und shipping 6,50 € (most cases, EU, UK, USA)
PS: Unfortunately, on the night of the 10th of July, Great Potrems burned, the house on our January page.
---
The calendar is unfortunately only available in German. But many of the houses we present in the calendar can be found on our website with English translation.