Deutsche Website

---
Travelling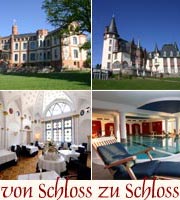 from castle to castle.
---
Castle Güstrow in calendar 2022
---
Castle Gadebusch in calendar 2021
---
Putbus Castle
Putbus was held by the von Putbus family from the 12th century until 1945. The "stone house" is mentioned as the family home in historical records dating to as early as 1371.
---

---

---
The 14th-century castle underwent a Gothic extension in the 15th century, and at the beginning of the 17th century a three-wing palace was created. The palace was almost completely rebuilt in 1725, but the Gothic wing and the Renaissance part remained. Between 1808 and 1823, under the aegesis of Prince Wilhelm Malte I, a royal residence and various Neoclassical buildings were erected as Putbus grew as a town. As part of this planned development, extensive building work was carried out on the palace, starting in 1827. The architect, J.G. Steinmeyer, was brought in from Berlin. Following a fire in 1865, the palace was rebuilt yet again, this time in the Wilhelminian style. Work started in 1872 and the architect was J. Pavelt, again from Berlin. After the Second World War, more work was done on the palace. The roof and the facades were repaired, with renovations continuing into the 1950s. However, it was decided at national level to demolish the most important secular building on the island of Rügen, and this took place between 1959 and 1964. The grounds of the palace were spared, and continue to be well kept. The orangery, the von Putbus family mausoleum, the royal stables and the monkey house are all worth a visit.
Mausoleum: built in 1867 in Gothic Revival style. Until it was finished, the von Putbus family grave was in the church of St. Mary Magdalen in Vilmnitz. The first member of the family to be buried in the mausoleum was Wilhelm Malte II von Putbus' wife Wanda von Putbus, née.Freiin von Veltheim-Wartensleben, who died in 1868.
Orangery: the original orangery was built in 1824, the building in its current form dates from 1853. Built on the site of a vineyard planted in 1730 which existed until 1804. In 1816 an ice house was constructed on the same spot.
Theatre: Neoclassical edifice designed by Wilhelm Steinbach and built between 1819 and 1821. Underwent alterations in 1826, 1914 and 1952/53.
Royal stables: Built between 1821 and 1824, used not only as stables but as living quarters and a stagecraft workshop for the theatre. Became increasingly derelict after 1945. Renovation ongoing since 1993.
Monkey house: built in 1821 as a pheasant and hen house. Now houses a museum which opened in 1994.

---
Keywords: