Deutsche Website

---
Travelling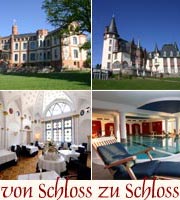 from castle to castle.
---
Castle Güstrow in calendar 2022
---
Castle Gadebusch in calendar 2021
---
Prillwitz Castle
The Prillwitz estate was owned in the 14th century by the von Peccatel family. It then passed to the von Heydebreck family, then the von Maltzahn family, and was later owned, until the end of the 17th century, by the Blankenburg family.
---

---

---
In 1767 the von Bredow family is recorded as being the holder of the estate. Prior to that, then-owner Carl Gustav Gamm built the stucco manor house with the half-hipped roof which still stands on the estate. This property, known as the "old manor house", was constructed between 1680 and 1706. In 1795 the von Bredow family sold the estate to Duke Carl. Schloss Prillwitz, a Jugendstil hunting lodge, was built between 1888 and 1890. A crown above the window to the right of the entrance is a reference to the royal heritage of the man who commissioned it: Hereditary Grand Duke Adolf Friedrich V, administrator of the estate from 1882 onwards. After the death of the last grand duke, the estate passed to his widow Elisabeth, who died in July 1933. When war broke out in 1939, Prillwitz was in the hands of a certain Baron von Tabue.
After the war, the palace was looted and then used as accommodation for refugees and resettlers.
It was later turned into a holiday property and is today run as a hotel.

---
Keywords: