Deutsche Website

---
Travelling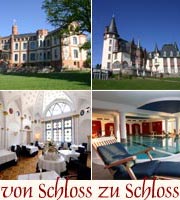 from castle to castle.
---
Castle Güstrow in calendar 2022
---
Castle Gadebusch in calendar 2021
---
Bützow
The original castle in Bützow was destroyed and rebuilt in the 13th century. The castle erected in 1263 served up until the 14th century as a bishop's residence, and the ribbed vaulting of the chapel stems from this time.
---

---

---
At the beginning of the 14th century the residence and the possessions within it, which belonged to the Church, were mortgaged to the von Bülow family. The mortgage was redeemed in 1362. During the reformation, the territory of the diocese of Bützow passed to Duke Ulrich of Mecklenburg, and in the 16th century the former bishop's residence was converted into a Renaissance palace. From 1713 until her death in 1749, the palace was used by Duchess Sophie-Charlotte as a dowager's residence. Later in the 18th century it was occupied by Bützow's no longer existent university, Friedrichs-Universität Bützow. From 1812, it housed a court dedicated to the hearing of serious criminal cases, and after this was turned into a prison. In 1910/11, the palace complex was renovated. Changes were made to the main house and some parts of the building were demolished. Under East German Communist rule, Schloss Bützow became a cultural venue, and later housed a library and museum.
The building is currently being restored, and the library and museum have moved into the Krumme Haus (Crooked House).

---
Schloß Bützow GmbH
18246 Bützow, Schlossplatz
Phone: 03761-185930
Email: schloss-buetzowSPAMFILTER@t-online.de

---
Keywords: