Deutsche Website

---
Remplin in calendar 2017
---
Travelling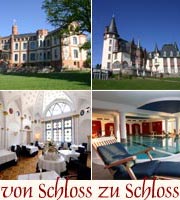 from castle to castle.
---
Castle Güstrow in calendar 2022
---
Remplin Castle
In the mid-18th century, the von Hahn family built a three-wing Baroque palace at Remplin. Starting in 1865, alterations were carried out by Duke Georg of Mecklenburg-Strelitz, who wanted the palace to reflect the style of the French Renaissance and called upon the services of the Berlin-based architect Friedrich Hitzig.
---

---

---
In 1940, the building burnt down, leaving just the north wing of the palace, a three-storey gate tower, the half-timbered buildings of the farm estate and the 17th century estate church. The land on which the palace stood was owned by the von Wozenitz family, the von Schnakenburg family, from 1405 - 1816 by the von Hahn family, and later by the von Schaumburg-Lippe family and the von Maltzahn family. In 1852 it passed into the possession of the Dukes of Mecklenburg-Strelitz.
Under Duke Georg of Mecklenburg-Strelitz, the original Baroque park was transformed from 1860 onwards into an English-style landscape park designed by Peter Joseph Lenné.
Today, avenues of trees which are over 200 years old give distinction to the well-kept grounds. Another highlight of the 35-hectare park, and artistically incorporated as a feature of the landscape, is the tower dating from 1801 which once housed the oldest observatory in Mecklenburg. A project to restore the tower, initiated by a group of members of the public together with the council, has been underway since 1980.
In March 2019, the north wing of Remplin Castle was auctioned off to a new owner.
---
Structure of ownership prior to 1945:
von Wozenitz family

von Schnakenburg family

1405 - 1816

Counts von Hahn
1775 Count Claus Ludwig von Hahn

1816 - 1847

Georg Wilhelm von Schaumburg-Lippe

1847 - 1851

1851 - 1938

Georg Carl Ludwig duke of Mecklenburg-Strelitz and his wife Katharina Michailowna von Russland

---
Keywords: