Deutsche Website

---
Historical mills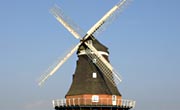 In some places these special technical monuments have been preserved. You can find many of them on the mill page.
---
Castle, Manor House or Farm House?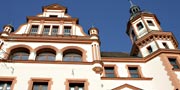 Information about the classification castle, manor house or farmhouse. Surely you must have asked yourself by which criteria we sorted the listing of manor houses and castles.
---
Travelling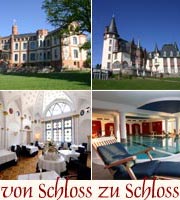 from castle to castle.
---
Hohenzieritz Castle
Hohenzieritz Castle was built between 1746 and 1751 for Hans Christian von Fabian, incorporating parts of an earlier building.
---

---

---
Because it was unclear who should inherit it, the palace passed into the possession of Duke Adolf Friedrich IV of Mecklenburg-Strelitz, who in 1770 endowed it to his brother Carl Ludwig Friedrich. In 1776, two "cavalier" houses were built to accommodate employees of the ducal household. Beginning in 1790, the building was extended according to plans by Johann Christoph Dräsecke. These included the addition of a timber-framed second storey with a stucco facade. In 1802, the outside staircase was constructed. The palace church, a Neoclassical rotunda, was built in 1806, and followed in 1815 by the Luisentempel in memory of Luise, Queen of Prussia, who died at Hohenzieritz in 1810. In 1919 the palace became the property of the state and was used for residential purposes as well as housing council facilities and an agricultural research centre. An English landscape park was created in 1771 on the basis of the existing Baroque park, and in 1789 a monument to the two wives of Grand Duke Carl was built.
The palace, now restored, currently houses the Müritz National Park Authority.

---
Staatliche Schlösser und Gärten Mecklenburg-Vorpommern
17237 Hohenzieritz, Schlossplatz 3
Phone: 0172-2873931
Email: schloss-hohenzieritzSPAMFILTER@mv-schloesser.de
Url: www.mv-schloesser.de/Hohenzieritz (ger only)
---
Öffnungszeiten Luisengedenkstätte Schloss Hohenzieritz
03. Juni - September: Dienstag bis Sonntag 10 bis 17 Uhr
Oktober: Samstag bis Sonntag 11 bis 16 Uhr
November bis Dezember: Führungen auf Anfrage
---
Keywords: