Deutsche Website

---
Travelling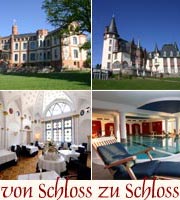 from castle to castle.
---
Castle Güstrow in calendar 2022
---
Castle Gadebusch in calendar 2021
---
Güstrow Castle
The most important Renaissance building in northern Germany was built in the 16th century, initially as the seat of Duke Ulrich of Mecklenburg. Duke Ulrich's old castle had burnt down, and the new residence, as the times demanded, was built to impress.
---

---

---
The palace was designed by the architect Franz Parr. A wing which originally filled the now open gap to the east side was demolished at the end of the 18th century.
After the Mecklenburg-Güstrow line died out in 1695, Güstrow was relegated to a secondary residence for the Dukes of Mecklenburg. For two years, Wallenstein held court here in spectacular fashion, but managed to author some liberal and intelligent reforms while resident at Güstrow. In the centuries which followed, Schloss Güstrow had a somewhat chequered history, until, following extensive restoration work, the first rooms opened to the public in 1972 as a museum. Along with the historic state rooms, visitors today can view a permanent exhibition of art and crafts from antiquity to the present, and an exhibition of hunting weapons from the collection of the Duchy of Mecklenburg

---
Information
18273 Güstrow, Franz-Parr-Platz 1
Phone: 03843-7520
Fax: 03843-682251
Email: infoSPAMFILTER@schloss-guestrow.de
Url: www.schloss-guestrow.de (only ger)
---
Öffnungszeiten






---
Keywords: