Deutsche Website

---
Wiligrad Castle in calendar 2019
---
Travelling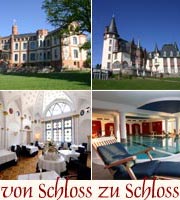 from castle to castle.
---
Castle Güstrow in calendar 2022
---
Wiligrad Castle
Schloss Wiligrad is situated to the north of Schwerin near the village of Lübstorf, in a wooded area which extends down to the shore of Lake Schwerin.
---

---

---
We present Wiligrad castle in the calendars for 2019
---
The Neo-Renaissance palace was built for Johann Albrecht, Duke of Mecklenburg-Schwerin, in just two years between 1896 and 1898. The architect was Albrecht Haupt. The exterior of the main building is rendered in white with terracotta ornamentation, while the wing to the west is unplastered brick. Schloss Wiligrad received its name, which is based on the Slavic word for "big castle", in March 1898. The palace complex consists of a large woodland park and numerous outbuildings including stables, guest stables, garages, a plant nursery, a poultry house, a "cavalier" house (a residential building used to accommodate palace employees and guests), a building used to store ladders, a gardener's residence, servants' houses, a building used for bleaching laundry, a turbine house and a pumping station.
The palace is owned by the state of Mecklenburg-Vorpommern. Post-1945 it was used for a short time as a training academy by the East German Communist Party, and later as a police training centre. Today it houses the State Office for the Preservation of Historic Buildings and Monuments, and the offices of the State Museum of Archaeology. An art club uses some of the rooms for exhibitions.

---
Führungen
19069 Lübstorf OT Wiligrad, Wiligrader Straße 6
Contact: Verein der Freunde des Wiligrader Schlosses e.V.
Phone: 03867-61110
Url: www.mv-schloesser.de
---
Kunstverein Wiligrad e.V.
19069 Lübstorf OT Wiligrad, Wiligrader Straße 6
Phone: 03867-8801
Fax: 03867-7450
Email: kunstverein_wiligradSPAMFILTER@t-online.de
Url: www.kunstverein-wiligrad.de
---
Keywords: