Deutsche Website

---
Historical mills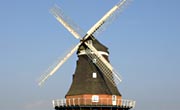 In some places these special technical monuments have been preserved. You can find many of them on the mill page.
---
Travelling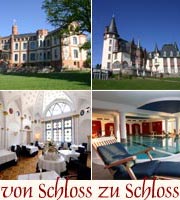 from castle to castle.
---
Castle Güstrow in calendar 2022
---
Franzburg
The town of Franzburg is situated in the middle of what is today the district of Nordvorpommern. In the 12th and 13th centuries, the region belonged to the Principality of Rügen.
---

---

---
In 1231, Wizlaw I, Prince of Rügen, gave his permission for the construction of a Cistercian monastery. Monks from Kamp am Niederrhein in the west of Germany erected residential buildings and a large abbey, and called the monastery "Neuenkamp". It existed until 1535, when it was closed down in the course of the secularisation of church lands and property. Sometime around 1580, the Duke of Pomerania, Bogislav XIII, had a palace built on the site, and the south transept of the abbey became the church which served the palace. In 1587, Bogislav XIII turned the village of Neuenkamp into the newly-founded town of Franzburg, naming it after his father-in-law Duke Franz V of Brunswick-Luneburg. The residence was abandoned in 1605 and Franzburg transferred to Duke Philipp Julius of Pommern-Wolgast. During the Thirty Years' War, Wallenstein's troops devastated the town completely following the Capitulation of Franzburg in 1628. The area was retaken by the Swedish King Gustav Adolf in 1631, and for the next almost 200 years, Franzburg remained under Swedish rule. In 1660, the remains of the palace were demolished on the orders of the Swedish governor Peter Appelmann, and the stone was used to build Appelmann a palace in Stralsund. The final remnants of the palace were removed in 1876, but the church remains an impressive testament to the economic and cultural significance of the monastery.

---
Keywords: