Deutsche Website

---
Travelling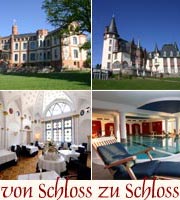 from castle to castle.
---
Castle Güstrow in calendar 2022
---
Castle Gadebusch in calendar 2021
---
Reuterstadt Stavenhagen Castle
The little town of Reuterstadt Stavenhagen was originally overlooked by a castle on the road from Neubrandenburg to Malchin.
---

---

---
The castle was held by the aristocratic von Stave (Stove) family. In the 15th century, it passed to the Duchy of Mecklenburg and was enfoeffed to the von Hahn family. In 1606, a palace was built on the site of the castle, but this building burnt down in 1727. In 1740 a new palace ensemble was built. Originally intended as a dowager's residence for the widow of the last Duke of Mecklenburg-Güstrow, it actually ended up housing administrative offices and a district court. Because it is built on a slope, the building has three storeys on the garden side but just two on the side which faces the courtyard. The round staircase tower was added in 1890.
Post-1945, the building was used as a school. It was extensively renovated between 1996 and 1999, and then used to house the town's administrative offices.
Schloss Reuterstadt Stavenhagen is situated within beautiful, well-kept grounds.

---
Touristinformation Stavenhagen
17153 Reuterstadt Stavenhagen, Schloß 1
Phone: 039954 - 279835
Fax: 039954 - 279834
Email: touristinfoSPAMFILTER@stavenhagen.de
Url: www.reuterstadtstavenhagen.de (ger only)
---
Keywords: