Deutsche Website

---
Historical mills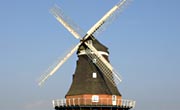 In some places these special technical monuments have been preserved. You can find many of them on the mill page.
---
Travelling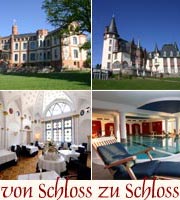 from castle to castle.
---
Castle Güstrow in calendar 2022
---
Castle Schwerin
The island on which the current palace stands was, in the 8th/9th century, the site of one of the main castles of the Slavic Obotrite tribe. The castle was destroyed in 1160 and rebuilt by the counts of Schwerin, whose residence it was until 1358, when it was taken over by the Dukes of Mecklenburg.
---

---

---
The castle was extended between 1553 and 1555, resulting in a three-storey stucco building with terracotta decoration. Between 1843 and 1845 more alterations took place, particularly on the main tower and on the "castle garden", "castle lake" and "palace garden" wings. The main architect was Georg Adolph Demmler, but Gottfried Semper and Friedrich August Stüler also had an influence. The palace is surrounded by generous gardens and even boasts a waterway in the shape of a cross. Various small gardens planted around the palace in the 16th century were extended in the course of the 17th and 18th centuries, and the grounds were redesigned entirely in the mid-19th century. The current park was designed by Peter Joseph Lenné and Gottfried Semper and planted by court gardener Theodor Klett. Its attraction stems largely from the way it exploits the palace's island location and is laid out to provide views of Lake Schwerin. Despite their geometric structure, there is a delightful lightness to the palace gardens. The recently restored orangery is well worth a visit.
Until 1918, the palace was the residence of the Dukes of Mecklenburg-Schwerin.
Today it houses the parliament of the state of Mecklenburg-Vorpommern, and a museum.

---
Museum Schloss Schwerin
19053 Schwerin, Lennéstraße 1
Contact: Besucherservice: Alexandra Kahl
Phone: 0385-5252920
Fax: 0385-563091
Email: infoSPAMFILTER@schloss-schwerin.de
Url: www.museum-schwerin.de
---
Keywords: