Deutsche Website

---
Travelling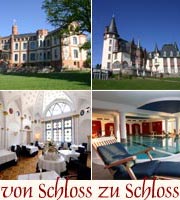 from castle to castle.
---
Castle Güstrow in calendar 2022
---
Castle Gadebusch in calendar 2021
---
Ludwigslust Castle
In 1724, a hunting lodge and park for Duke Christian Ludwig II of Mecklenburg-Schwerin were built in the village of Klenow. In 1754, the village was renamed Ludwigslust.
---

---

---
We present Ludwigslust in the calendars for 2019
---
Two years later, it was decided that the ducal residence itself should relocate to Ludwigslust, and in 1764 the move was actually completed. The three-storey, sandstone-clad red brick palace we see today was constructed between 1772 and 1776 for Duke Friedrich of Mecklenburg-Schwerin and designed by Joann Joachim Busch. The floor plan is E-shaped, with the central block higher than the rest of the building. The roof parapet features 40 larger-than-life allegorical figures arranged between a series of ornamental vases. The first floor of the palace houses the richly decorated, two-storey, Rococo-style Gold Room, part of whose décor is made of papier mâché. A bronze statue of Grand Duke Friedrich Franz I guards the main entrance.
From the courtyard side, Schloss Ludwigslust looks onto a cascade-style stone fountain and the palace church, which was designed by Busch and constructed between 1765 and 1770.
The 120-hectare grounds make up the largest park in Mecklenburg. The oldest part of the park was created around 1730. Water features, bridges, artificial ruins, the Schweizerhaus (a Swiss-style chalet) and a monument to Duke Friedrich were all added around 1760. In 1852, Peter Joseph Lenné redesigned the park, which now contains numerous small architectural elements and the first neo-Gothic church in Mecklenburg, the Catholic church of St. Helena, which was built between 1803 and 1809 by the architect Johann Christoph von Seydewitz. The park also houses the mausoleum for Hereditary Princess Elena Pavlovna, which was designed by Joseph Christian Lillie and built in 1806 in the Neoclassical style, and the mausoleum for Duchess Luise, which was designed by Johann Georg Barca.
In 1837, the ducal residence moved back to Schwerin. After the abdication of the Grand Duke in 1918, the palace was used as a home for his family. From 1945 onwards it accommodated various administrative offices. Schloss Ludwigslust today houses a museum and café which are open to the public.

---
Museum Schloss Ludwigslust
19288 Ludwigslust, Schlossfreiheit 1
Contact: Gabi Karraß
Phone: 03874-571915
Fax: 03874-571919
Email: infoSPAMFILTER@schloss-ludwigslust.de
Url: www.schloss-ludwigslust.de/en
---
Keywords: