Deutsche Website

---
Historical mills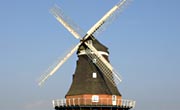 In some places these special technical monuments have been preserved. You can find many of them on the mill page.
---
Travelling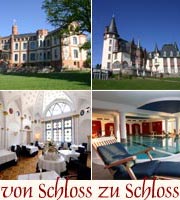 from castle to castle.
---
Castle Güstrow in calendar 2022
---
Neustadt-Glewe
Construction of the palace at Neustadt-Glewe began in 1619 for Duke Adolf Friedrich I of Mecklenburg. The ducal architect was Gerhart Evert Piloot, who died in 1629, causing work to come to a standstill.
---

---

---
The edifice was eventually completed between 1711 and 1717 by the architect Leonhard Christoph Sturm. The two-storey, three-wing palace is built around a cour d'honneur in Dutch Baroque style. It stands within a small park which extends to the river Elde, and the interior of the building boasts some elaborate stuccowork. From 1725, the palace was home to Prince Christian Ludwig. After the Second World War it was used as emergency accommodation for refugees, and later as a school. Extensive renovation work was carried out in the 1990s on the foundations, the roof, the outer walls and the interior, and the palace now houses the "Schlosshotel Neustadt-Glewe" and a restaurant. The stucco ceilings inside the building, which were restored by Polish specialists, remain a highlight.
Neustadt-Glewe is also home to a castle, known as the Altes Schloss (old castle), which dates back to the 13th century and is regarded as the oldest and best preserved fortress in Mecklenburg. It now houses a museum and a café.

---
Keywords: