Deutsche Website

---
Dönkendorf in calendar 2019
---
City Guide Stralsund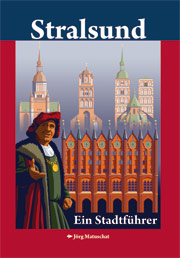 for guests of the Hanseatic city: A richly illustrated ramble through the present and history of the Hanseatic city of Stralsund with a map of the old town.
---
Large calendar 2019, A3 landscape (420 x 297 mm)
What is good this year will be even better next year! In 2019 there are three castles and a moadet castle - and four hidden pearls...
---

---
This manor house and palace calendar is an interesting mix of styles between Pomeranian Renaissance and Classicism. And Wiligrad in the Johann Albrecht style is even a Mecklenburg speciality.
---
---
In the calendar we look at the history of the place, the estate and the manor house and introduce the owners. Perhaps this calendar will inspire you to delve deeper into one or the other house. On an additional page we have added some historical photos. And the card with the "Discoveries" closes this interesting calendar.
These manor houses, castles and fortresses will be included in 2019:
Wasserburg Turow (near Demmin)
Neu Wendorf (near Sanitz)
Daschow (near Plau am See)
Neu Bartelshagen (near Stralsund)
Schloss Wiligrad (near Schwerin)
Ludorf (south of Lake Müritz)
Ludwigsburg (near Greifswald)
Samow (in the country)
Griebenow (near Greifswald)
Dönkendorf (in the Klützer Winkel at the Baltic Sea)
Greven (near Lübz)
Schloss Ludwigslust (in the southwest of Mecklenburg)
The manor house calendar in brief:
- Cover page with Ludwigslust Castle
- 12 calendar sheets
- Sheet 13 with historical photos
- General map and pictures on the back
- size A3, landscape (420 x 297 mm)
- ring binding
- shrink-wrapped in a foil
price 19,50 €
Packing, postage and dispatch 6,50 €
The calendar is unfortunately only available in German. But many of the houses we present in the calendar can be found on our website with English translation.