Deutsche Website

---
Travelling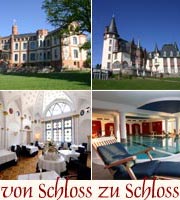 from castle to castle.
---
Castle Güstrow in calendar 2022
---
Castle Gadebusch in calendar 2021
---
Friedrichsmoor Hunting Lodge
Jagdschloss Friedrichsmoor is a hunting lodge situated within the Lewitz conservation area, a landscape characterised today by woodland, meadows, ditches and ponds.
---

---

---
A completely straight route connects the lodge directly with the palace at Ludwigslust. The lodge was built by Duke Friedrich Wilhelm in ca. 1705 to exploit the abundance of game in the surrounding woodland. The one-storey, three-wing, half-timbered building was designed by court architect Johann Christoph Heinrich von Seydewitz and completed in 1791 under Grand Duke Friedrich Franz I of Mecklenburg-Schwerin.
Since 1964, the garden room of the lodge has been decorated with the iconic panoramic wallpaper "La chasse à Compiègne" originally found in Friedrichsthal Castle. The wallpaper is based on a design by the French painter Charles Vernet and dates from around 1815. The hunting lodge was used for its original purpose up until 1918, and post-1945 served a variety of ends. The Communist youth organisation FDJ (Freie Deutsche Jugend) used it as a residential centre, and it also housed, for a period, land development offices.
In Spring 2021 Jagdschloss Friedrichsmoor reopens and appears in new splendor with new owners. The Jagdschloss is now hotel, restaurant and event venue.

---
Keywords: