Deutsche Website

---
Travelling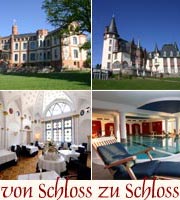 from castle to castle.
---
Castle Güstrow in calendar 2022
---
Castle Gadebusch in calendar 2021
---
Granitz Hunting Lodge
Jagdschloss Granitz, which is built on an elevation of 106m known as the Tempelberg, offers visitors a breathtaking view over the island of Rügen.
---

---

---
First mentioned in historical records from 1318, the estate was owned from 1472 to 1945 by the von Putbus family. In 1726, Moritz Ulrich I had a small hunting lodge built on the Tempelberg, and in 1810 a look-out tower was added. The castle in its current form - which was also built for hunting - was commissioned by Wilhelm Malte I. Construction started in 1837, and the original architect was Johann Gottfried Steinmeyer. However, Steinmeyer was replaced during the building phase by Karl Friedrich Schinkel, who in 1844 added the 38m-high tower in the centre. Inside the tower, a spiral cast iron staircase leads to a viewing platform. The castle opened to the public as a museum in 1900, but in the aftermath of World War II most of its interior décor was last. In the years that followed, Jagdschloss Granitz was used for concerts, exhibitions and other events, and part of it was turned into a restaurant. In 1983, work began on restoring the whole building so it could be used as a museum again. Along with the reception room, the dining room, ladies "salon" and marble room are all open to the public.

---
Jagdschloss Granitz
18609 Ostseebad Binz OT Granitz,
Phone: 038393-66710
Fax: 038393-667187643
Email: jagdschloss-granitzSPAMFILTER@mv-schloesser.de
Url: www.granitz-jagdschloss.de (only ger)
---
Öffnungszeiten
Mai bis September: täglich von 9-18 Uhr
Oktober und April: täglich 10-16 Uhr
November bis März: Di. - So. 10 - 16 Uhr
Am 24. und 31. Dezember hat das Jagdschloss lediglich bis 14 Uhr geöffnet.

Letzter Einlass jeweils 30 Minuten vor Schließzeit.
---
Keywords: