Deutsche Website

---
Travelling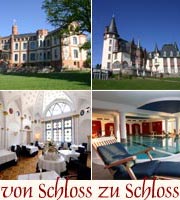 from castle to castle.
---
Castle Güstrow in calendar 2022
---
Castle Gadebusch in calendar 2021
---
Pudagla Castle (Manor House)
The village of Pudagla is located on the island of Usedom, on a narrow stretch of land between lake Schmollensee and the bay formed by the Achterwasser lagoon.
---

---

---
The village is home to one of the last preserved "castles" of the Dukes of Pomerania. It was built by Duke Ernst Ludwig in 1574 as a dowager's residence for his mother, Duchess Marie of Pomerania, on the foundations of a Premonstratensian abbey founded in 1156 and dissolved in 1535 after the Reformation. The rather plain, two-storey plastered brick building has a single turret on its south-east side and a rectangular stair tower at the rear which encases a spiral staircase. Above the main entrance, which has a rounded arch and is framed by flat pilasters, a sandstone relief in the wall displays, within an elaborate Renaissance border, the coat of arms of the state of Pomerania and a commemorative text. Eight of the nine "county" crests feature the Pomeranian griffin. In 1934, the demesne was opened to settlements.
After the Second World War, the building began to be used for residential purposes, and continues to provide housing to this day. It also holds a restaurant.
The remains of the curtain wall around the former abbey can still be seen.

---
Keywords: