Deutsche Website

---
Ludwigsburg Castle in calendar 2019
---
Travelling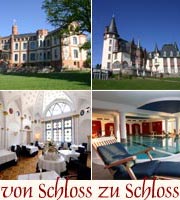 from castle to castle.
---
Castle Güstrow in calendar 2022
---
Ludwigsburg Castle
Ludwigsburg castle is idyllically situated on the edge of the Greifswald Bodden (Bay of Greifswald). It was built between 1577 and 1592 on the orders of Duke Ernst Ludwig of Pommern-Wolgast as a dowager's residence for his wife.
---

---

---
We present Ludwigsburg Castle in the calendars for 2019
---
In 1631 it passed into the possession of Anna of Pomerania, the sister of Duke Bogislaw XIV, and in 1650 to the Müller von der Lühne family of Sweden. Between 1747 and 1776 it was owned by Ernst von Horn, and then by the von Klinkowström family, again of Sweden. In 1810 it was bought by the Weissenborns, a family of merchants based in Greifswald, and remained in their possession until 1945. From 1945 to 1978 it was used primarily for residential purposes, and afterwards stood empty for decades.
One of the highlights of the interior is a ballroom with a Renaissance Revival ceiling dating from ca. 1860. The complex consists of 7 other buildings, all erected in the 19th century, including a Beamtenhaus ("official's house"), outbuildings and stables. The striking gateway into the courtyard dates from 1742.
In 1993, the Weissenborn family bought the property back from the council and leased it to an association whose aim is to save the main house and the complex as a whole from dereliction. The group intends to use public funding coupled with their own money and hard work to restore and maintain the house and grounds. Ultimately, the idea is to turn it into a meeting place for people from all over Europe, and into a conference centre and centre for research into Romanticism in northern Germany. It is hoped that the project will provide purposeful work and training for young people, disabled people and the long-term unemployed.
The nearby churchyard holds a red brick, neo-Gothic family mausoleum, to the west of which the Weissenborn family tomb can be found.

---
Förderverein "Schloss und Gutshofanlage Ludwigsburg e.V."
17509 Ludwigsburg, Schlosshof 1-4
Contact: Gunnar Peters
Phone: 038352-60324
Email: SchlossLudwigsburgVorpSPAMFILTER@gmx.de
Url: www.ludwigsburg-mv.de (ger only)
---
Keywords: