Deutsche Website

---
Travelling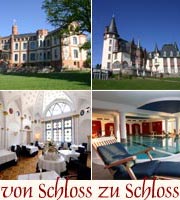 from castle to castle.
---
Castle Güstrow in calendar 2022
---
Castle Gadebusch in calendar 2021
---
Plüschow Castle
In 1450, Plüschow is recorded as belonging to the von Bülow family. In 1758, the estate was acquired by the Hamburg-based merchant Philipp Heinrich Stenglin, who established it as a summer residence for himself and his wife.
---

---

---
Plüschow we present in the 2024 calendar
---
Five years later he had a manor house built on the estate, as befitting his rank and standing. Today, the Rococo stucco ceilings are about all that remain of the once sumptuous interiors, along with three Neoclassical heating stoves from the beginning of the 19th century. In 1802, the eldest son of Philipp Heinrich Freiherr von Stenglin sold the family's extensive holdings to the Hereditary Prince of Mecklenburg, Friedrich Ludwig, and the house at Plüschow remained until 1945 in the possession of the grand ducal family. Post-1945, the property was initially used as a refugee shelter, then, over the years, as a factory canteen, kindergarten, restaurant and administrative offices. It has been a listed building since 1954, and restoration work started in 1988.
Schloss Plüschow is owned by the council. It is run by an association of "friends" of the house (Förderkreis Schloss Plüschow e.V.), set up in 1990, who use the wonderful architecture to provide a forum for modern art. The building houses six studios for visiting artists, and a printing workshop. Exhibitions of contemporary art are shown from the spring to the late autumn of every year, and particular emphasis is placed on combining the visual arts with music and other art forms.

---
Mecklenburgisches Künstlerhaus Schloss Plüschow
23936 Plüschow, Am Park 6
Contact: Leiterin Miro Zahra
Phone: 03841-61740
Fax: 03841-617417
Email: mailSPAMFILTER@plueschow.de
Url: www.plueschow.de (only ger)
---
Öffnungszeiten






Während der Dauer der Ausstellungen geöffnet
---
Keywords: