Deutsche Website

---
The small calendar 2022
---
City Guide Stralsund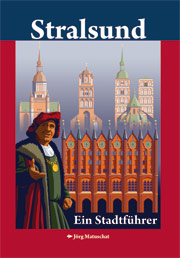 for guests of the Hanseatic city: A richly illustrated ramble through the present and history of the Hanseatic city of Stralsund with a map of the old town.
---
Large manor house calendar 2024 (A3)
From manor houses that later became castles and monastery walls that found a new purpose - this year we again tell twelve interesting stories, where we also learned a lot.
---

---
We begin with the testimony of a unique success story, namely that of the castle and later knight's estate Ivenack. With Neustadt-Glewe Castle, we have probably portrayed the oldest preserved fortified castle in Mecklenburg, while the modern Stellshagen Estate can look back on "just" 100 years of history in 2024. On the island of Rügen, not only has the Üselitz ruin been transformed into an intact manor house (and guesthouse); the grounds have also regained their castle-like character. And a guardian angel (or several) seems to have watched over Klein Roge. Each of these houses is a little delight!
This year we have included some houses that are not visitable, but even a look from the outside is definitely worthwhile.
---
---
These are the houses & places we present in 2024:
Manor house Klein Roge (Schloss Hessenstein)
---
The calendar in dates:
- Cover page
- 12 calendar sheets
- Sheet 13 with historical photos
- General map back side
- Format A3, landscape (420 x 297 mm)
- Ring binding
- wrapped
Price: 21,00 €
Packing and shipping 6,50 € within Germany
Shipping to other countries may incur additional costs.