Deutsche Website

---
Castle, Manor House or Farm House?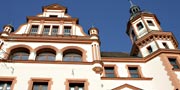 Information about the classification castle, manor house or farmhouse. Surely you must have asked yourself by which criteria we sorted the listing of manor houses and castles.
---
So that your dream does not become a nightmare
A real estate portal dedicated to castles and manor houses in Mecklenburg-Vorpommern and Brandenburg that supports you in every phase of your project's development.
---
Manor House Alt Karin
From 1344 on, the von Barnekow family resided in Alt Karin, and the von Karin family towards the end of the 14th century too.
---

---

---
In 1459 the entire properties of both families go to the von Bibow family. In 1680 Privy Councillor Bennen purchased the estate however in 1688 he had to pledge the property to Major General Printz. Subsequently the estate changes hands in quick succession. As owners named were in 1693 Karl Leonhard Müller von der Lühne, from 1744 on Berend Gottfried Boddin, as from 1805 Herr Wiegert, and in 1848 Heinrich Wilhelm Roeper. The counts von Bernstorff came into possession of the estate in 1868. They remained owners of the property until the expropriation in 1945.
The "new" manor house Alt Karin was built around 1830 and demolished in the 1960s. The building blocks and bricks were used for the construction of the port of Rostock. The so-called Holländerhaus (Dutch House) was built in 1699 commissioned by Karl Leonhard Müller von der Lühne. It is a half-timbered building, which has now been rendered. The building first served as a residence for the lords of the manor, later it housed the estate administration. Together with a few other estate buildings and farm labourers´ cottages the Holländerhaus remains unchanged.
The church in Alt Karin is a brick building which was probably built at the beginning of the 14th century.

---
Keywords: