Deutsche Website

---
A manor house for a whole group!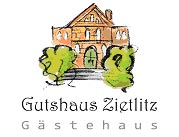 The guest house Zietlitz offers the suitable ambience for family celebrations, small seminars, groups of friends of historical manor houses; nature lovers, yoga groups and much more.
---
Manor House (Castle) Frauenmark near Parchim
The manor house was built in 1860 in late neo-classical style but burnt down 30 years later and was rebuilt in 1893.
---

---

---
The owners changed frequently over the course of time: Jakob von Schönberg was the estate owner starting in 1407 and stayed in his family's possession until 1682. Frauenmark later belonged to Baron C. von Forstner and went to the heir to the throne Friedrich Franz I von Mecklenburg-Schwerin in 1780 due to bankruptcy. Justus von Unger owned the estate in 1824, Luise von der Sode in 1832, Otto Rieck in 1913 and Clemens von Doetinchem de Rande starting in 1916. The empty standing buildings were plundered after World War II and finally converted into an old people's home which existed up until 1994.
The building has been under private ownership since 1996 and was completely restored and reconstructed in the following two years. Today it houses a hotel with stylishly furnished rooms. There are 13 enchantingly decorated rooms and suites with romantic four-poster beds and original-looking bathrooms for the guests. These are complemented by numerous beautiful rooms for general use such as the hall with its room high sandstone chimney, tea salon, library, wine bar, Bar Florence and Restaurant Claude Monet as well as the separée in which a couple can dine undisturbed.
The former stable behind the main building was restored and opened as an orangery in 2008 which can be used for celebrations.

---
Keywords: