Deutsche Website

---
Historical mills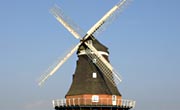 In some places these special technical monuments have been preserved. You can find many of them on the mill page.
---
Manor house Carlewitz in calendar 2022
---
Manor House Cammin near Laage
Cammin was first mentioned in documents in 1226. Lords of the manor were the von Cammin gentlemen, in the early 14th century the monastery Sonnenkamp held shares in the place too.
---

---

---
After the family branch of the von Cammin was extinguished in the 16th century, Dietrich Bevernest purchased the estate and later Achim von Koss. However, the family run into debt and in 1667 Duke Gustav Adolph von Mecklenburg-Güstrow took over the estate who in turn handed it over to Georg
von Mecklenburg in 1672. Afterwards ownership changed several times, until in 1747 Hereditary Prince Friedrich took over the estate.
The house for the tenants of the demesne was built at the end of the 19th century.
Due to the initiative of a sponsoring association it was possible to renovate the building. Since 2003 the Free Primary School "Storchenschule Cammin" has been established here.
Located near the husbandry yard is the boulder stone church which was consecrated around 1240.
---
Tenants of the Demesne prior to 1945:
| | |
| --- | --- |
| (1776)-1845 | B.E.F. Dabel |
| 1845-1856 | Hermann Georg Friedrich Fischer |
| 1856-1867 | Friedrich Hillmann |
| 1867-1898 | Max Heucke |
| 1898-(1930) | Richard Schadow |
| (1937)-(1939) | Dr. Günter Schadow |
Cammin finden Sie im Buch "Fotografische Zeitreise - Mecklenburg", Band 2

---
Keywords: