Deutsche Website

---
Castle Gadebusch in calendar 2021
---
Travelling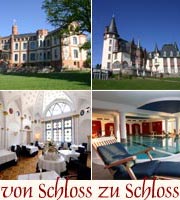 from castle to castle.
---
Castle Güstrow in calendar 2022
---
Gadebusch Castle
Gadebusch is one of the oldest towns in Mecklenburg. Its Renaissance palace was built in 1571 by Duke Christoph of Mecklenburg on the site of a castle first mentioned in the 8th century, destroyed in 1181 and then rebuilt.
---

---

---
The current palace was designed by the royal architect Christoph Haubitz and built using recycled stone from the medieval castle. The facade of the three-storey, one-wing building and staircase tower is decorated with terracotta friezes apparently made in the studios of the famous Satius von Düren. The stair tower features various Hanseatic coats of arms, while the panels on the main house depict religious scenes or contain portraits of German princes and ladies in Renaissance costume. From the beginning of the 13th century, the castle was inhabited by princes of the Mecklenburg dynasty. The Renaissance palace was only used as a ducal residence until the beginning of the 17th century, and in 1878/79, the main building was turned into a district court. The palace underwent extensive renovation work from 1903 onwards, and damaged terracotta panels were replaced by new ones. Post-1918, the palace held the offices of various administrative authorities. Post-1949, it was used as a boarding school, and later as a kindergarten and an archive.
In the mid-1990s, Schloss Gadebusch was sold for 50,000 Deutschmarks to a private investor from Würzburg, Bavaria, who in 2012 transferred it to the charitable association HoffnungsGut. To find out more about the association's plans, please see below. Unfortunately, these plans are taking a long time to fall into place and over the last few years the building has fallen further into disrepair.
Two newspaper articles (in German) by Volker Bohlmann which appeared in the Gadebusch-Rhenaer Zeitung provide more information:
17th March 2015: "Schloss-Odyssee nimmt kein Ende" (only ger)
and: "Gadebusch : Der Traum vom sanierten Schloss" (only ger)
---
HoffnungsGut Schloss Gadebusch
The plan
The house and outbuildings are to be turned into living accommodation. We will provide activities and services for the local community, run various pilot projects, offer inter-generational living, reintegration, preserve and maintain a listed building, provide healthy, child-friendly food, practice permaculture and "generation farming", and promote knowledge transfer, research and culture. HoffnungsGut Schloss Gadebusch will offer each generation as much space and freedom as desired, but also provide numerous opportunities and venues for communication, joint action and the formation of friendships. The inter-generational community which results will experience synergy effects which emerge naturally from it, rather than being dictated.

---
Keywords: