Deutsche Website

---
Historical mills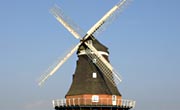 In some places these special technical monuments have been preserved. You can find many of them on the mill page.
---
Travelling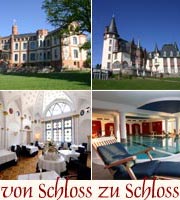 from castle to castle.
---
Castle Güstrow in calendar 2022
---
Ueckermünde Castle
Ueckermünde is a harbour town and officially recognised health resort situated directly on the Stettiner Haff (Bay of Szczecin), a shallow inlet which connects the north east of Germany with Poland.
---

---

---
There was a castle here as early as 1284 which was used as the residence of the Dukes of Pomerania. Around 1546, Duke Philipp I of Pommern-Wolgast had the building converted into a magnificent four-wing Renaissance palace. The south wing housed a large ballroom, and the ducal apartments were situated on the two floors above. The other wings were used to accommodate guests and servants, as offices or meeting chambers, and as the ducal stables. After 1720, three wings of the palace were demolished, leaving just the south wing and the keep still standing today. The roof of the keep was rebuilt following a fire in 1908. Over the course of its history, Schloss Ueckermünde has been held by the Swedes and the Prussians, and functioned as a hunting lodge, a town hall and a savings bank.
Since 1950 it has housed the "Haffmuseum". Now beautifully restored, the former seat of the Dukes of Pomerania provides fascinating insights into the prehistory and early history of the region, the history of the town, and its fishing and agricultural traditions.
The tower offers a wonderful view of Ueckermünde and the Stettiner Haff.

---
Haffmuseum im Schloss
17373 Ueckermünde, Am Rathaus 3
Phone: 039771-28442
Fax: 039771-28444
Email: haffmuseumSPAMFILTER@ueckermuende.de
Url: Haffmuseum Ueckermünde
---
Keywords: