Deutsche Website

---
Rostock in calendar 2017
---
Travelling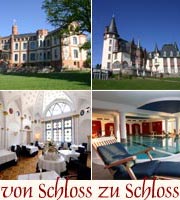 from castle to castle.
---
Castle Güstrow in calendar 2022
---
Herzogliches Palais Rostock
In 1705, Adolf Friedrich II bought what had formerly been a hall of residence belonging to Rostock University, and in 1713, work began under architect Leonhard Christoph Sturm to transform it into a ducal palace for Duke Karl Leopold.
---

---

---
Around 1750, a two-storey Baroque building designed by Jean Laurent Legeay was added. The sumptuous interior of the ballroom is preserved almost as it was originally.
In 1910, a thoroughfare had to be created through the building, causing the once central entrance to be moved to its current position.
Today, the Barocksaal (Baroque ballroom) is used for official events, receptions and concerts. Over the last few years it has hosted festival performances, performances by the chamber music group Mecklenburger Kammersolisten, theatrical evenings and readings, as well as a number of exhibitions and meetings.
Weitere Informationen: www.barocksaal-rostock.de

---
Keywords: