Deutsche Website

---
Historical mills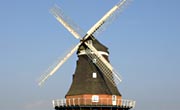 In some places these special technical monuments have been preserved. You can find many of them on the mill page.
---
Travelling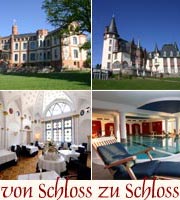 from castle to castle.
---
Castle Güstrow in calendar 2022
---
Fürstenhof Wismar
Between 1256 and 1358, Wismar was the main residence of the Princes of Mecklenburg. The Fürstenhof (Princes' Palace) is made up of two wings set almost at right angles to each other.
---

---

---
The west wing, also known as the "Old House", was built in 1512/13 in the late Gothic style upon the engagement of Duke Heinrich V to Helene von der Pfalz (Helen of the Palatinate). The "New Court" or "New House" was built by Heinrich V's nephew and successor Johann Albrecht I on the foundations of a Gothic ballroom adjacent to the "Old House" which was demolished to make way for it. This second wing was made necessary by the marriage between Johann Albrecht I and Anna Sophie of Prussia, and was built between 1553 and 1555 in Italian Renaissance style. It is modelled on Palazzo Roverella in Ferrara, Italy and richly decorated with limestone and terracotta carvings. The three storeys are separated from each other by figurative friezes, and the portals in front of the gateway are also highly sculpted. In 1574, structural problems led to the demolition and rebuilding of the roof, and other changes were made under the Swedes, who between 1653 and 1802 used the palace as the seat of the highest Swedish court in the German dominions. In 1877/78, the building was comprehensively - and controversially - restored by Carl Luckow, who failed to recreate its original appearance. Today, following extensive repairs and restoration work, the Princes' Palace has been returned to its former glory and now houses the district court.

---
Tourist-Information
23966 Fürstenhof,
Phone: 03841-19433
Fax: 03841 22529 128
Email: touristinfoSPAMFILTER@wismar.de
Url: www.wismar.de/en
---
Keywords: