Deutsche Website

---
Travelling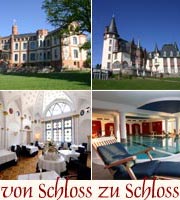 from castle to castle.
---
Castle Güstrow in calendar 2022
---
Castle Gadebusch in calendar 2021
---
Hohenzieritz Castle
Hohenzieritz was a fief of Hans Altwich von Holtzendorff at the beginning of the 18th century. After a predecessor building burned down in 1712, he had a simple manor house built.
---

---

---
In 1733 Johann Christian von Fabian was enfeoffed with Hohenzieritz, who between 1747 and 1751, including the existing building, had the complex built as a one-storey plastered half-timbered building with a high hipped roof.
In 1768 the fief fell to Adolf Friedrich IV, Duke of Mecklenburg-Strelitz, who left Hohenzieritz to his brother Karl II two years later. Under him the two flanking Kavaliershäuser were newly built in 1776. From 1790, according to plans by Johann Christoph Dräsecke, the manor house was raised by one floor and in 1794 the interiors were redesigned with preciously painted wallpaper, fine furniture and valuable paintings.
Luise, Queen of Prussia, died at Hohenzieritz Castle on 19 July 1810. As a result of this event, the castle became well known far beyond the borders of Mecklenburg.
After the end of the monarchy in 1918 the castle became a museum and until 1945 the valuable interior of the castle could be visited by visitors. But in the post-war confusion, much was irretrievably lost through looting and destruction.
After 1945 and during the GDR era, the rooms were used throughout: as refugee accommodation, consumer sales point, cultural centre, school, kindergarten, community office and as a scientific agricultural centre. After the end of the GDR, the castle was vacant for eight years from 1992, which resulted in its decay. In 2000 the castle was renovated and since then it has been the administrative centre of the Müritz National Park. The Luisen memorial in the dying room is open to visitors.
The Hohenzieritz Landscape Park is considered one of the oldest and most important English style parks in Mecklenburg. It was created in 1776 by the garden architect Archibald Thomson on the south side of the palace, where the terrain slopes gently and merges into the park with its surrounding open landscape over an area of 21 hectares. By 2011, the state of Mecklenburg-Vorpommern had the 25 hectare park reconstructed.
In the park stands the Luisentempel - an open circular building with eight columns. In memory of his daughter Queen Luise of Prussia, Duke Charles II had this temple created by the architect Christian Philipp Wolff in 1812. A bust of Queen Luise inside the temple, also designed by Wolff, was stolen in 1993 and replaced by a copy in 2007.
Also in the park you can see the monument "Die Hoffnung getröstet die Trauer" ("Hope comforts mourning"), built by Christian Philipp Wolff, which Duke Charles II dedicated to his wives and children who died early in 1798.
The round castle church was built in 1806 in classicist style by the master builder Friedrich Wilhelm Dunkelberg.
Translated with www.DeepL.com/Translator

---
Staatliche Schlösser und Gärten Mecklenburg-Vorpommern
17237 Hohenzieritz, Schlossplatz 3
Phone: 0172-2873931
Email: schloss-hohenzieritzSPAMFILTER@mv-schloesser.de
Url: www.mv-schloesser.de/Hohenzieritz (ger only)
---
Öffnungszeiten Luisengedenkstätte Schloss Hohenzieritz
03. Juni - September: Dienstag bis Sonntag 10 bis 17 Uhr
Oktober: Samstag bis Sonntag 11 bis 16 Uhr
November bis Dezember: Führungen auf Anfrage
---
Keywords: