Deutsche Website

---
Manor house Rothen in calendar 2022
---
Travelling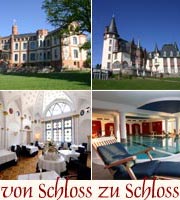 from castle to castle.
---
Manor House Rönkendorf
With the marriage of Hans-Jürgen von Gadow (*1674) and Anna-Margarethe von Behr (daughter of Hermann Volrath von Behr and his wife Ilsabe Dorothea von Owstien from the house of Quilow) on May 3rd, 1701 in Neukahlen, a huge share of the estates in the Franzburg region, in the then Swedish Western Pomerania, was passed on to the von Gadow family. These properties included Hugoldsdorf with Neuhof, Rönkendorf, Drechow, Derschendorf, and Eixen.
---

---

---
According to "Niekammers Landwirtschaftlichem Güteradressbuch" (Niekammer's Agricultural Goods Directory) from 1939, the Rönkendorf estate had a total area of 396 ha. In September 1945, the von Gadow family (Eberhard von Gadow, born in 1890, and his wife Irene o von f Gadow, born Baroness of Roenne and their daughter) was expropriated following the land reform and expelled from the district of Franzburg.
The manor house was built in its present form at the end of the 19th century. The manor house served as a refugee shelter after 1945.
The manor house was auctioned in September 2003 and renovated in the years that followed.

---
Keywords: