Deutsche Website

---
The small calendar 2022
---
City Guide Stralsund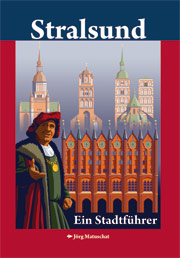 for guests of the Hanseatic city: A richly illustrated ramble through the present and history of the Hanseatic city of Stralsund with a map of the old town.
---
Large manor house calendar 2022 (A3)
We are looking forward to July 14: In our calendar year 2022, we continue with very old and quite new houses - the range this time is enormous. It ranges from an estimated 1250 to 1922 - and in some cases many different versions unite in one building.
---

---
Our two calendars are (as always) created with a lot of love - we think you can see that. Each house has its personality and mostly a much longer history than is visible at first glance. We descend into the centuries and also look behind the facade. Once again, a romantic castle and the palace of the Dukes of Mecklenburg-Güstrow are included.
---
---
We will present these houses & places in 2022:
---
The calendar in dates:
- Cover page
- 12 calendar sheets
- Sheet 13 with historical photos
- General map back side
- Format A3, landscape (420 x 297 mm)
- Ring binding
- shrink-wrapped
price 19,50 €
Packing and shipping 6,50 € within Germany
Shipping to other countries may incur additional costs.