Deutsche Website

---
Daschow manor in calendar 2019
---
Ludorf manor in calendar 2019
---
Recommend us!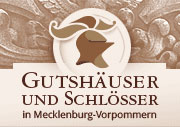 ---
The von Pressentin Family
In the middle of the 17th century the family was on the point of dying out, but husband and wife Bernd von Pressentin and Anna-Dorothea, also born von Pressentin, had several sons and the family flourished anew in four branches.
---

---
Individual members of the family emigrated in the 18th century to neighboring areas and became residents of other parts of Germany. In East Prussia a union of names and coats of arms occurred through marriage under the designation von Pressentin called von Rautter, and later came elevation to the rank of count by right of primogeniture under the name Count von Rautter-Willkamm. In the last 135 years other family members also emigrated. Today their descendants live in the USA, Brazil, South Africa, Spain, Italy, France, and Sweden. In 1888 a family association was founded, and in 1999 an aid association for the maintenance of the family chapel. The von Pressentins hold reunions in Germany and the US in order to keep family ties alive.
---
Estates:
Daschow
Gehmkow
Klein Nienhagen
Mentin
Prestin
Contact address: Friedrich-v.Pressentin@t-online.de
Weitere Informationen: www.von-pressentin.homepage.t-online.de