Deutsche Website

---
Ludorf manor in calendar 2019
---
Recommend us!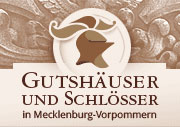 ---
The von Levetzow Family
On the occasion of a family reunion in 1903 the von Levetzows settled upon this coat of arms. Older versions depict five rather than seven vertical beams.
---

---
The coat of arms represents a swinging gate. The family's heraldic saga is more recent than the coat of arms itself, which appears in Mecklenburg on a signet ring as early as the 13th century. According to this tale a squire rescued his lord from an ambush. As they entered a city for peace talks he grasped the situation: The gate of the city would be shut behind them. He warned the group, kept the gate open, and all were saved. In memory of this event the lord bore the symbol of the gate upon his coat of arms.
Estates: