Deutsche Website

---
Ludorf manor in calendar 2019
---
Recommend us!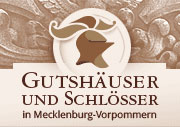 ---
The von Barner Family
The Barners were an old family with the rank of knight, resident primarily in western Mecklenburg, as indicated by many still-extant place names (Barnekow, Barnin, Barner Stück).
---

---
The estate Bülow near Crivitz is regarded as the ancestral seat. Barner Stück was in the possession of the von Barner family until 1945 as an entail; one branch of the family also farmed the neighboring estate Klein Trebbow until 1945.
Estates:

---
Keywords: