Deutsche Website

---
Manor house Rothen in calendar 2022
---
Travelling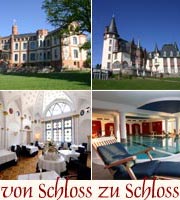 from castle to castle.
---
Manor House Radepohl
The history of the Radepohl estate is closely connected with the neighbouring Wessin estate.
---

---

---
Thus Radepohl with Wessin, Kleekamp and Ruchow, Bolz and Tieplitz near Sternberg was in the hands of the Elderhorst zu Tosendorf family in the 18th century. The Elderhorsts were ennobled in the 18th century. The Stralendorff family was presumably also the owner of Radepohl. Georg Froriep was the estate owner up until the end of World War II. The manor house which is recognisable from a distance has a clear building style and a high hipped roof. The house core presumably dates from the 17th century as it is reminiscent of other Mecklenburg manor houses from this time such as Gnemern, Großenhof or Groß Salitz. It has been standing empty for a long time and needs urgent renovation. The remains of a park are preserved. The neighbouring Badegow estate already belonged to the Bülow estate complex whose palazzo-style manor house is regarded as the von Barner family residence.

---
Keywords: