Deutsche Website

---
Historical mills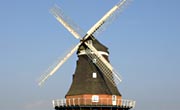 In some places these special technical monuments have been preserved. You can find many of them on the mill page.
---
So that your dream does not become a nightmare
A real estate portal dedicated to castles and manor houses in Mecklenburg-Vorpommern and Brandenburg that supports you in every phase of your project's development.
---
Bassendorf manor house in calendar 2021
---
Manor House Borkow
The Borkow manor house is a one-storey plastered building that was erected around 1800 with a high-hipped roof. The house got through the century in a relatively good condition.
---

---

---
In 1996/97, the manor house was renovated by the Röhrdanz family and transformed into seven family-friendly holiday apartments.
---
Structure of ownership prior to 1945:
| | |
| --- | --- |
| 1617 | by way of pledge von Bülow |
| 1650-1761 | heritable an von Bülow |
| 1761-1784 | von Seitz |
| 1784-1791 | M. Lange (Hamburg) |
| 1791-1803 | G.F.F. Segnitz |
| 1803-1804 | Christian Hartwig Görbitz |
| 1804-1821 | Johann Gottfried Lübbe |
| 1821-1851 | Christian Eggers |
| 1851-1903 | Christian Martin Reichhoff (until 1894) |
| -(1938) | Jordan baron von Campe |

---
Keywords: