Deutsche Website

---
Castle, Manor House or Farm House?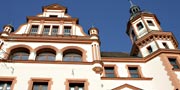 Information about the classification castle, manor house or farmhouse. Surely you must have asked yourself by which criteria we sorted the listing of manor houses and castles.
---
So that your dream does not become a nightmare
A real estate portal dedicated to castles and manor houses in Mecklenburg-Vorpommern and Brandenburg that supports you in every phase of your project's development.
---
Manor House Alt Krassow
The manor house is largely renovated - it is used as a residential house; however, a holiday apartment for four individuals has also been created.
---

---

---
The construction time of the main house with the entrance area is dated to 1890; the side wing is older but an exact date of construction could not be ascertained. Both parts of the building were built with clay bricks.
---
Structure of ownership:
| | |
| --- | --- |
| -1784 | Captain Ulrich Georg von Vieregg |
| 1784-1786 | Creditors of Ulrich Georg von Vieregg |
| 1786-1790 | Mrs. Ulrike Sophie de la Roche Begg nee von Vieregg (see Weitendorf and Woland) and Lieutenant Colonel Carl August and Captain Georg Wilhelm von Maydell (see Gottin) |
| 1790-1811 | Field Marshal and head equerry Johann Ludwig Imperial Count von Wallmoden-Gimborn (see Diekhof) |
| 1811-1814 | The heirs of Johann Ludwig von Wallmoden-Gimborn |
| 1814-1822 | Brothers Ludwig, Carl, and Adolf, Count of Wallmoden-Gimborn |
| 1822-1834 | Lieutenant Field Marshal Ludwig Count of Wallmoden-Gimborn |
| 1835- | Johann Pogge (see Roggow, Warnkenhagen) |
| -1854 | Johann Daniel Georg Pogge (see Roggow) |
| 1854-1900 | Hermann Pogge (see Roggow) |
| 1900- | Wilhelm Pogge |
| 1944-1956 | von Oltendorf-Kaletka Family |
| ab 1956 | Maaß Family |

---
Keywords: