Deutsche Website

---
Recommend us!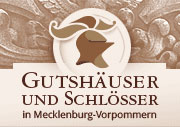 ---
Wrangelsburg manor house in calendar 2021
---
Wiligrad Castle in calendar 2019
---
Warnkenhagen Manor House near Teterow
After 1656 the estate was in the possession of the von Vieregg family, while in the 18th century the owners changed often: von Hein; von Warnstedt; Hennings; von Hahn.
---

---

---
In 1803 the Counts von Hessenstein owned the estate; in 1830 the owner was J. C. Pogge, followed by W. Müller in 1844 and the von Bülow family in 1863. After 1872 the property was in the possession of the von Schlieffen family.

---
Keywords: