Deutsche Website

---
Castle, Manor House or Farm House?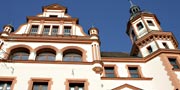 Information about the classification castle, manor house or farmhouse. Surely you must have asked yourself by which criteria we sorted the listing of manor houses and castles.
---
So that your dream does not become a nightmare
A real estate portal dedicated to castles and manor houses in Mecklenburg-Vorpommern and Brandenburg that supports you in every phase of your project's development.
---
Manor House Alt Necheln
The manor house in the beautiful village Alt Necheln is more than 100 years old. The house was designed and built by the first German female architect Emilie Winkelmann by order of the owner family Booth.
---

---

---
The village Necheln is inhabited much longer as findings from about 900 B.C. seem to prove. The name Necheln stems from the Slavonian word Niklesse (Niklot's descendants) and may be a hint that once at the beautiful river Warnow's banks there was a Slavonian castle. One of the first owner families (amongst others) was the family Barner.
Alt Necheln is part of the township Brüel and is located in the middle Warnow vale in the northern part of the Sternberger Seenlandschaft. The natural park is characterized by its deeply indented cross valleys alongside the Warnow river and numerous clean lakes, picturesque hills and expanses of woods. Also worth a visit is the new natural park center Sternberger Seenland in Warin with its exciting exhibition. The Brüel township is flanked by the Roter See to the South, the Keezer Lake to the West as well as the Tempzin Lake and the Lake Groß Labenz to the North and Northeast. The distance to the Hanseatic city Wismar is approx. 30 km, to the regional capital Schwerin approx. 27 kilometers.
---
Holidays in the manor house
The house itself has generous rooms such as the entrance area with a library, the small and great halls, in which breakfast is also served. Upon request, breakfast can be also be served on the garden terrace. The large park-like garden and the jetty on the Warnow invite you to linger. Families with children are warmly welcomed to the manor house. The holiday apartment Biberburg (120 sq. m) has room for 4 - 8 people. Next to a cosy wood burner, you can find everything you want for a relaxed holiday (open kitchen with large dining table, dishwasher, bath, 2 separate bedrooms). The Warnowblick apartment (80 sq. m) is lovingly furnished for 2 - 4 people with a large living/sleeping area, the kitchen with corner seating, dishwasher and a bath round off this lovely wellbeing apartment offer. The small apartment on the ground floor is called Zum goldenen Frosch (30 sq. m) and is wonderful for 2 people. Double bed, corner seating with a sofa bed, corner kitchen and bath invite you to relax.

---
Keywords: