Deutsche Website

---
Travelling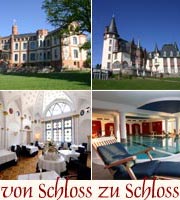 from castle to castle.
---
Midsummer Remise
22. & 23.06.2019
The weekend of Nordic castles and manor houses.
Move with us from estate to estate.
---
Manor House Rubow
From the 15th to 17th century, particularly the knightly dynasty of von Sperling was in possession of large areas located northeast of Schwerin Lake.
---

---

---
Thus this family managed the Rubow, Alt and Neu Schlagsdorf, Retgendorf, Buchholz, and Flessenow estates at the same time. Later followed the von Bülow family, until the von Neumann and von Benckendorff families also spread into this area. Up to 1945 the Rubow estate was in possession of the von Böhl family.
The Rubow manor house is probably a late classicistic building, which is now empty and neglected.
In 2017 the house is for sale.
Behind the house there is a 2,5 hectare park.
---
Structure of ownership prior to 1945:
1326 - 1784

von Sperling

1784 - 1792

Adolf Ludwig von Spörken

1792 - 1805

privy councillor Gottlieb Schnelle

1805 - 1833

Joh. Christian Bartels
Joachim August Christ. Bartels

1833 - 1880

Carl Friedrich Eugen von Storch

1880 -

Rudolf Johannes von Böhl

- 1901

Rudolf Johannes and Robert von Langen

1901 - 1945

Rudolf and Fritz von Böhl
1921 - 1945 Fritz von Böhl

---
Keywords: