Deutsche Website

---
Manor house Rothen in calendar 2022
---
Travelling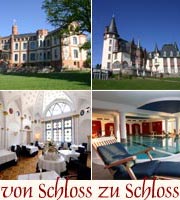 from castle to castle.
---
Manor House Redderstorf
The political development in Germany eventually made it possible for the families of Meyerhoff from Göttingen and Börnke from Bochum to buy up the Redderstorf estate together since 1991.
---

---

---
Emergency excavations commissioned by the monument preservation authority in Redderstorf during the period between 1994 and 1996 show a settlement from the middle Neolithic era, the Bronze and Slavic period, up to the medieval times. The earliest historical mention was after the rebellion in 1179 and 1210, when Prince Heinrich Borwin of Meklenburg pledged half of the Marlow Castle and nine neighboring villages to Heinrich von Bützow, with the proviso that these places "were to be cultivated again and maintained in good condition". In 1326, Prince Henry of Meklenburg, Stargardt, and Rostock gave the town of Sülze ownership of the Redderstorf village. This sales certificate was confirmed anew in 1569 by Duke Johann Albrecht, by Duke Ulrich in 1570, and by Duke Gustav Adolph in 1667. Around 1360, a document from 1371 shows that the town of Sülze also had to pledge Redderstorf to Otto von Dewitz and Lord von der Lühe. It was thereafter pledged to Bishop Friedrich von Bülow and the cathedral chapter at Schwerin. In 1377, there was a process to decide on a pledge feud between Dukes Heinrich and Magnus vs. Bishop Melchior von Schwerin. In 1448, the property was pledged by Duke Heinrich to the von der Lühe family. In 1450, all the pledges were inherited by the Lühes. They later lost the fief to Achim von Kardorf to Demmin, who then lost Redderstorf and other properties to his cousins, Dukes Heinrich and Albrecht von Meklenburg in 1510. In 1516, however, the brothers Joachim and Gerdt Kerckdorp sold it again to Otto von der Lühe. Redderstorf was thereafter owned by the von der Lühe family, probably uninterruptedly, until 1768 when the Princely Chamber enlisted the property just to later pass it on to a member of the family as a fief 1881. Helmuth von der Lühe sold the allodial property to merchant Rudolph Christian Konrad von Pflugk from Hamburg and estate owner Wilhelm Mahncke from Schwartow near Cörlin.
Dr. Helmuth Adolf Heinrich Borck, a doctor from Rostock, later bought the estate that had been dilapidated and that had a total area of about 684.1 ha for 785,000 Marks for livestock and inventory on July 1st, 1909. On September 16th, 1909, he was honored with the feudal oath as the last owner. Borck died in 1933 and was buried in the presence of the Duke. His son was killed in Russia in 1944, his wife died in 1945. The estate was divided up following the land reform by the Soviet military administration and integrated into Bad Sülze in 1950.
Today, Redderstorf is home to an agricultural and forestry company that is in private hands.
Source: "Redderstorf, Urkunden und Akten zur Geschichte eines Rittergutes in Mecklenburg.", Dr. Jürgen F. Börnke, Bochum 2010/2015
---
Structure of ownership pre 1945:
| | |
| --- | --- |
| 1179 | Heinrich von Bützow |
| 1326 | City Sülze |
| 1360 | Otto von Dewitz and Mr. von der Lühe |
| 1371 | Bishop Friedrich von Bülow and Dom in Schwerin |
| 1448 | von der Lühe family and Achim Kardorf in Demmin |
| | Joachim and Gerdt Kerckdorp (von Kardorf) |
| 1516 | Otto von der Lühe |
| 1569 | City Sülze |
| 1570 | City Sülze |
| 1653 | Otto Gebhard von der Lühe |
| 1701 | Jochim Friedrich von der Lühe |
| 1743 | Johann Friedrich von der Lühe |
| 1793 | Friedrich Cuno von der Lühe |
| | Helmuth von der Lühe |
| 1881 | Rudolph Christian Konrad von Pflugk in Hamburg and Wilhelm Mahnke in Schwartow near Cörlin |
| 1909 | Dr. med. Helmuth Adolf Heinrich Borck from Rostock |
| 1933 | widow Ella Auguste Carla Ottoni Borck, nee Heuke aus Cammin |
| 1945 | expropriation, land reform, settlements |

---
Keywords: