Deutsche Website

---
Castle, Manor House or Farm House?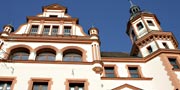 Information about the classification castle, manor house or farmhouse. Surely you must have asked yourself by which criteria we sorted the listing of manor houses and castles.
---
So that your dream does not become a nightmare
A real estate portal dedicated to castles and manor houses in Mecklenburg-Vorpommern and Brandenburg that supports you in every phase of your project's development.
---
Manor House Alt Schönau
---

---

---
At the beginning of the 17th century, Schönow pledged their shares to the von Blücher family. After the Thirty Years' War, the property was passed on from hand to hand: 1659 Kurt Behr, 1667 Friedrich von Lehsten, 1684 Hinrich von Erlenkamp, the von Voss family starting in 1726, 1899 Ferdinand Meisenburg, one year later Friedrich Kolz, and afterwards Alfred Wegener. The last owner, who held the property between 1912 and 1945, was the farmer Ernst Piek.
The manor house, a plastered brick building, was built at the end of the 18th century. A rebuild took place between 1917 and 1919. After 1945, it was used as a kindergarten, municipal office, and as a farmhouse.
Today, holiday apartments can be rented in the manor house.
---
Structure of ownership prior to 1945:
| | |
| --- | --- |
| Beginning of the 17th century | by way of pledge von Blücher family |
| 1659 | Kurt Behr |
| 1667 | Friedrich von Lehsten |
| 1684 | Hinrich von Erlenkamp |
| 1725-1883 | counts von Voss / district administrator Felix count von Voss |
| 1883-1887 | Marie Elise Marianne Schlee, née Koch |
| 1887-1898 | Elise countess von Voss, née countess Stápáry and Victor count von Voss |
| 1898-1900 | Ferdinand Meissenburg |
| 1900-1906 | Friedrich Klotz |
| 1906-1909 | Alfred Wegener, brother of Paul Wegener in Neu Schönau |
| 1909-1912 | Ferdinand Paetz |
| 1912- | Georg Hoge and Ernst Piek |
| -(1938) | Ernst Piek and Margarethe Piek, née Hoge |

---
Keywords: