Deutsche Website

---
Castle, Manor House or Farm House?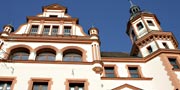 Information about the classification castle, manor house or farmhouse. Surely you must have asked yourself by which criteria we sorted the listing of manor houses and castles.
---
So that your dream does not become a nightmare
A real estate portal dedicated to castles and manor houses in Mecklenburg-Vorpommern and Brandenburg that supports you in every phase of your project's development.
---
Manor House Alt Plestlin
The grand manor house Alt Plestlin originates from around 1850 when it was erected on the foundation walls of a previous building.
---

---

---
Prior to the Thirty Years War the property was owned by the von Kaevenbrink family, the later Barons von Keffenbrinck. After this line died out, the property was passed on to the house of the Griebenow Keffenbrincks and in 1920 on to the Barons von Langen, who since then do call themselves von Langen-Keffenbrink. Up to the expropriation in 1945 the estate was managed by Dr. Hans-Wolfgang Baron von Langen-Keffenbrink.
After World War II refugees moved into the manor house. The ballroom with the delicately structured stucco ceiling dates back to the building period.
The manor house, which nowadays is privately owned, has been undergoing restoration for some years.
The landscape park, created in the 19th century, includes the natural surroundings, a slope towards the river Peene, a little pond, marsh areas and age-old trees.
Alt Plestlin is part of the 2009 weekly calendar
Alt Plestlin can be found in the book "Fotografische Zeitreise - Vorpommern", Band 1 (Photographic Time Travel Western Pomerania Volume 1)

---
Gutshaus Alt Plestlin
17129 Alt Plestlin, Alt Plestlin
Contact: Udo Sturm
Phone: 039997-13853 oder 0152-09441273
Email: udosturmSPAMFILTER@yahoo.de
Url: www.mecklenburgische-seenplatte.de/alt-plestlin (in german only)
---
Keywords: